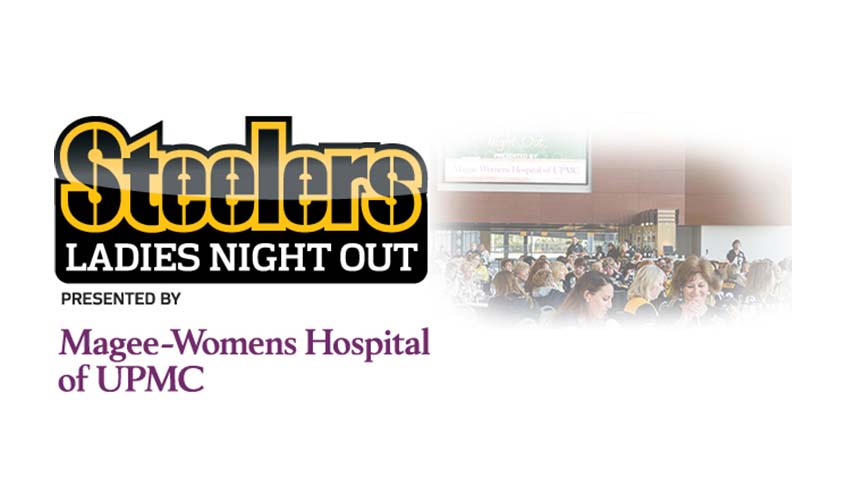 The Ladies of Steelers Nation enjoyed a double greenscreen photobooth at this annual event! E.L.F. has been providing the fun photos at this event for six years. We are thrilled to continue this partnership with the Steelers organization. Working with the fan ain't half bad either! Steelers Nation is the most loyal fanbase in the world.
Our staff set up two greenscreen photo stations to accomodate the large demand at the beginning of the event. The photo stations serve as the pre-event activity. The photo strips feature three different photos for the ladies to pose with. The first picture was #84 Antonio Brown celebrating in the end zone. The second picture is Ben Roethlisberger enterting the field from the player's tunnel. The final photo is with Coach Tomlin calling plays on the sidelines. The photos were printed on photo strips. Full resolution images were then auto-uploaded to E.L.F. page on Facebook for the ladies to download on their own time. Check them out by Clicking HERE!
Photo Station Fun on YouTube: https://youtu.be/q8jKQDc-tp4
The photo station provides great chance for the ladies to get together and have fun. You'll see familiar faces and new faces every year. There were ladies from all over the United States and Canada at the event. Some of these ladies have been coming ever since the first Steelers Ladies Night! The event also features two guest speakers and fun activties that take place on the field and all around the Heinz Field stadium.
This event sells out every year and accomodates around 250 ladies. Be sure to plan ahead to get tickets for 2018! The event takes place the Monday after the first home game of the regular season.
For more information on our Snapshot photo services, please visit our website www.elfentertainment.com
To view information on furture Steelers Ladies Night events, visit this website: http://www.steelers.com/schedule-and-events/LadiesNightOut.html
Have a great day! Here We Go Steelers!
-DLF
From The Pittsburgh Steelers:
"The Pittsburgh Steelers are hosting an evening of football and fun at Heinz Field for ladies only.
The evening will include a relaxing dinner complete with chef action stations and dessert bars in the UPMC Lounge on the east side of Heinz Field. #50 Ryan Shazier and #45 Roosevelt Nix will speak, providing insight into what life is like for them during the week of football season.
All participants will then have the opportunity to participate in three drills held on the side of the playing field conducted by former Steelers players including Shaun Suisham, Jason Gildon and Charlie Batch as well as a behind the scenes tour of Heinz Field.

Other highlights include a great gift bag for all participants featuring an exclusive ladies Steelers t-shirt, hat, autographed photos signed by the two current players appearing at the UPMC Lounge and much, much more."